In this product review we will have a look at the functioning and features of the Lepide Exchange Recovery Manager – an Exchange Server disaster recovery, backup restoration, and Exchange/Office 365 migration solution created by Lepide Software. Lepide is into the business of making data recovery software since 2004 and has come up with quite a few well-appreciated and awarded applications in this segment in the past years.
What it does?
Lepide Exchange Recovery Manager is being marketed as a disaster recovery, backup restoration, and Exchange Server/Office 365 to Exchange Server/Office 365 migration solution. But you can do a lot more with it. Here is a list of things you can do with this application:
Recover Mailboxes and Public Folders from corrupt EDB files and restore them to Live Exchange Server and PST granularly without using recovery server.
Exchange Server/Office 365 to Exchange Server/Office 365 data migrations.(migrates only data from mailboxes and Public Folders, their properties and permissions are not migrated)
Email Search across Offline EDB, Live Exchange Server, PST, and Office 365.
Convert EDB to PST.
Backup Extraction from NTBackup, Symantec, VERITAS, HP Backup (both incremental and differential backup) and CA ARCserve backup.
Export mailboxes from Live Exchange Server, offline EDB, OST, Office 365 and PST to a new or existing PST.
Archive Mailbox Migration.
Export emails from Live Exchange Server, Office 365, OST, and PST to EML, MSG, HTML, RTF and Text file.
Upload data from Offline EDB, OST and PST to Live Exchange Server and Office 365.
Import emails in EML, MSG, HTML, RTF and Text file into Live Exchange Server, Office 365, and PST.
These are the tasks which Exchange Server administrators have to commonly do. Apart from the above mentioned tasks, software also does a few other things which I've not mentioned here. As an Exchange Server administrator you are less likely to come across a requirement which it doesn't meet.
How Lepide Exchange Recovery Manager works?
Software functioning is very simple. You need to add the source before you can search and export the Mailbox/Public Folder items. To import/upload emails from local disk you need to add destination. To migrate data from one format to another such as EDB/Live Exchange Server/OST/PST/Office 365 to Live Exchange Server/Office 365/PST you need to add both source and destination.
Adding Source
The following can be added as source.
Offline EDB File
Offline OST File
Outlook PST File
Live Exchange Server
Live Exchange Using Existing MS Outlook Profile
Office 365/OWA
The process of adding these to the application as a source is very simple. There are separate wizards to add each of them; all you need to do is select from the options and click Next. The wizard will guide you through the rest of steps providing you all the hints you need.
Source List Options
There are a number of tasks that you can perform in the source folder list. Right-clicking on a source item opens this context menu from where you can do a number of things like copying Folder to destination location, exporting Mailboxes to PST (You can export all or only selected Mailboxes), exporting individual messages, extracting message attachments to a folder, generating mailbox report wherein you get full details of the Mailbox content in grid format, and searching for a particular message in source.  In this screen we can see all the context menu options available.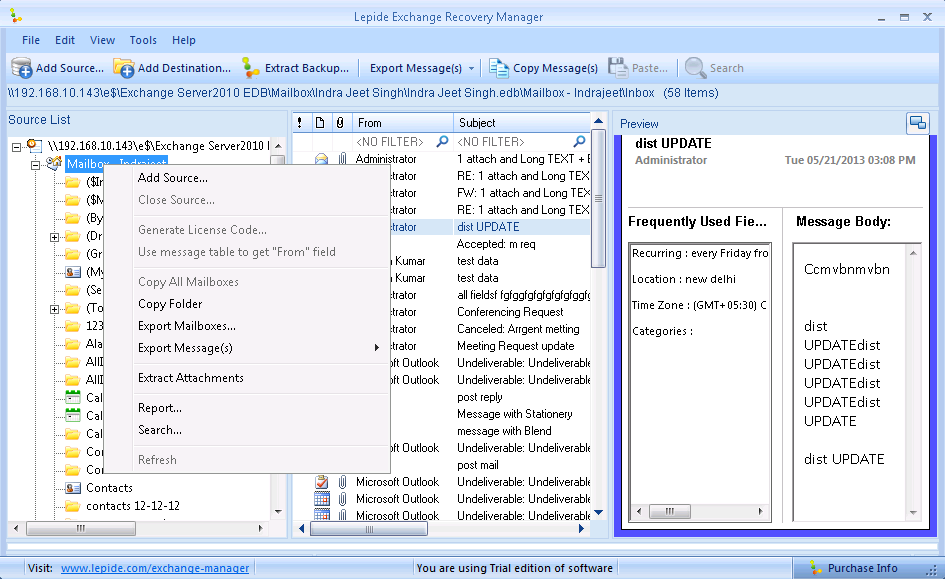 Database Recovery
After you have added the damaged EDB file to the source you can salvage the mailbox content using "Copy Folder" or "Export Mailboxes…" option from the context menu as shown in the above diagram. So the process of data recovery, i.e. EDB to Live Exchange Server, EDB to PST, Corrupt Live Exchange Server to Production Live Exchange Server and PST can be done in only three steps: 1. Right-click and select the relevant option from the menu. 2. Select and copy what you want to recover, and 3. Paste/Export to destination.  The following screens shows export dialog box.
E-Discovery Feature
Whether it is for compliance or restoring a deleted email from the backups (and you don't know which backup has that email), e-discovery feature can come handy as you can search for that message from the source list after specifying the search criteria.
Adding Destination
The following can be added as destination.
Existing PST File.
Create New PST File.
Live Exchange.
Live Exchange Using Existing MS Outlook Profile
OWA/Office 365
Same as source, process of adding destination is also very simple and wizard-driven.
Destination List Options
The following screenshot shows activities that you can do using destination list context menu options. You can paste mailboxes copied from source, import MSG and EML files directly from hard disk to Live Exchange Mailboxes, create new mailbox, and create new folders in Live Exchange Server. So if you want to do data migration from Live Exchange Server/Office 365 to Live Exchange Server/Office 365, simply add them in source and destination respectively, and copy-paste the mailboxes as you normally do in Windows.
 Backup Extraction
Using this feature you can extract EDBs from online and offline backup created by NTBackup, VERITAS, Symantec, HP Backup, and CA ARCserve backup. Once the EDB file has been extracted you can restore the full EDB or granular messages to Live Exchange Server. In this screenshot we can see an EDB file extracted from the BKF backup file.
Other options include creating and using template file to create new PST by software. You can also use this option to create PST files of other languages. All the email attachments can be extracted in a separate folder to the hard disk.  There are a lot of other things that we can do using this application. The following screenshot shows software activity log setting by which you can record all software activities.
Conclusion
Very useful application indeed, I would say. Software interface has been designed like Windows Explorer giving you that familiar Windows environment. All sort of activities related to data recovery and backup extraction can be done by it. While migrating mailboxes you can only copy-paste the data, mailboxes' permissions and properties cannot be migrated, but then, as we understand it is not suppose to be full-featured migration software. Lepide Exchange Recovery Manager scores well high for what it has been made for.
I highly recommend you to download a fully functional Trial version from the Download Link and to start experiencing it today itself !